"MBA Blues – What Recruiters Want and What B-Schools Don't Teach" is  my first book on Management Skills and Life Skills.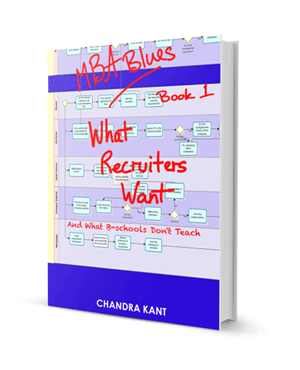 You, an MBA student, are the CEO of your career and life.
As a CEO:
You need to formulate yourself as a saleable product and devise a marketing strategy for your offered services
You need to handle your own finances – costs and investments
You should be concerned about you motivation and that of your stakeholders and supporters
You have to handle your learning and delivery (production) processes efficiently.
This concept personalises the MBA programme for you, and makes it interesting and relevant. In the role of a CEO of your own fate, you will realise that all the knowledge that you acquire, in books and classes, can be assessed and refined in the crucible of your own personal experience. In a way, you are being taught how to manage the rest of your own life.
This book also shows you how to acquire some of the skills that are required to be the CEO and architect of your own fate. For example:
how to manage knowledge;
how to be creative;
how to think rationally and positively;
how to control negative emotions – anxiety, anger and depression;
how to relate to others.
The book has three sections:
The first part of the book talks about the

reality of the MBA world

, in the B-school and in corporate life. This is the marketplace where you, competing as a CEO, is operating.
The second part of the book shows you

how to develop the skills you need

so that you can perform the right actions to further your corporate career. This section is relevant to all corporate professionals. The chapters on emotions will help you deal with your personal relationships also.
The third part of the book teaches you specific skills to

make rational choices

– in your life and career. A major portion of this section is relevant to corporate professionals.
A detailed Table of Contents can be found here.