When two persons enter into a relationship (be it professional or personal), the following interaction happens.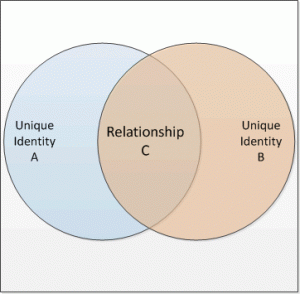 There are three distinct areas – the two persons having unique identities A, B and a third shared identity (C).
This is a very important concept – that the relationship is separate from the persons who create the relationship. Just as we invest in ourselves, we have to invest in the relationship also. A relationship is like a child born out of two persons coming together, and the child has a unique and distinct personality from the two parents. The way parents feed the child (emotionally and spiritually) determines how the child grows.
Characteristics of relationships
We invest time in a relationship. Since time is limited, the amount of time spent eats into personal time and this creates issues. The time can be willingly given, or forcibly taken. The time spent is at the expense of other activities and these have repercussions. We believe that if time is being invested, it should be utilised well. If I perceive that the other person is physically present, but not emotionally there, I may feel the time to be wasted.
We invest emotional content in a relationship. We create memories of good and bad times, we fight, make up and we spend quality time together. Each incident has an emotional content that either nurtures or detroys the relationship.
We have multiple relationships at the same time. We have a professional relationship at work, a semi-professional one with colleagues, another set of relationships with friends, with parents and with our spouse. the limited time creates a continuous tussle for prioritisation.
Each relationship has a purpose and fulfils some need. If the need is fulfilled or cannot being fulfilled, the relationship dies. Sometimes because of social pressure, we continue in a relationship for the sake of appearances. This happens professionally as well as personally.
A relationship is of a finite duration. It may extend to the lifetime of one person, or for a smaller duration. Sometimes, one person leaves the relationship, due to death or change of priorities. Other times, needs change or are satisfied and there is no need for the relationship. Eventually when the relationship dies, we suffer a sense of loss. We retain the emotional content and remember the good times. All loss leads to a feeling of grief and we go through 5 stages of grief.
The nature and the boundaries of a relationship changes. Specially when in love, we sometimes put all other relationships at low priority and invest everything in one relationship.   This happens especially if we believe that this one relationship will fulfil all our needs. Sometimes we start changing the relationship and want more out of a relationship than what the other person wants to give. We start ignoring boundaries. We start taking the relationship for granted. We force things.
How to maintain a relationship
Understand the finite nature and the changing nature of a relationship. A person with a negative mindset may conclude that there is no use of a relationship. A positive person would rather enjoy the relationship and the experience while it lasts. We also need to understand that the initial boundaries and the time spent on a relationship will change. We should be prepared for it, and deal with it. See my blog entry on Acceptance and Resigation.
A smart investment manager creates a portfolio of low-yield stocks that have guaranteed returns as well as instruments giving high returns but having more risk. He actively looks at the value of the portfolio and juggles his investments to match his objectives. He spreads his risk and monitors daily. A bad manager will have a large dependency on one stock, and may not actively monitor, taking his portfolio for granted. Similarly, we need to understand that different needs are satisfied by different relationships and depending on one relationship to satisfy all needs can create serious damage and is high risk.
A relationship is not the person. We may respect the person, and we need to respect ourselves, and not blame the success or failure of the relationship on the persons creating the relationship. A relationship has a life of its own, different from the life of the persons involved. You cannot, individually, take the blame not the credit for the relationship.
The story of the Great Indian Crab Syndrome is well known. In essence, Indian Crabs do not need to be locked up as one crab will prevent others from escaping.
But let us be fair. This happens everywhere. I have worked in the far East and the Far West, fairly North (but not south of the equator). Trust me, at least in the northern hemisphere, it exists everywhere.
I consider it a natural process. Consider this.
Commoditisation
This is a process of making one product indistinguishable from another product. In other words, the opposite of product differentiation. So where a crab pulls another crab down, it is not trying to make the other crab indistinguishable, so that it does not become a 'run-away' success?
A Survival tactic?
After all, differentiation prevents unity. Commoditised products create cartels so that they can collectively bargain. When one product thinks it is different and can command a different market share, the unity is broken.
Conformity
This is important for the sanctity of a group or an organisation. When we join the corporate world, we go through the induction programme, where we are taught conformity (read culture). We are given a conflicting message – employees are our greatest assets, we value innovation and creativity, but when we try to exercise this value, we are asked to conform.
Low self-esteem?
If I am jealous of someone who is better than me, I would bring him down to my level. Any person who I perceive to be better than me can differentiate and command a better price!
Stop striving for excellence
Differentiating  is taught as a lesson in marketing, and all the books about corporate heroes tom-tom doing something different (even illegal), treading the road less travelled, ignoring the barbs and the taunts of the other crabs.
We all start off by with stars in our eyes, working hard. We gradually succumb to bare minimum work and rationalisation.Why do we look at each other, and if we see others not working, we too stop working?
We do not let others work, and we ourselves do not work.
So, who is the Indian Crab? Not the other people – but our own mind.